July New Product Flyer
Personal Care and Skin Care Products!
Did you know that the personal care products we use in our daily lives, contain large amounts of chemicals, and most of them are harmful to body! OV's organic skin care basics pack, shampoo and conditioner, are made of all natural ingredients. They are safe and gentle to our bodies, which are the perfect choice to maintain healthy skin and hair. In July's product talk, two product flyers will be launched: (1) Organic Skin Care Basics, and (2) Organic Shampoo and Conditioner. The flyers will introduce products in details. Make good use of flyers, to expand your business effectively!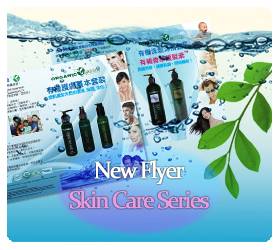 Speech Contest in July,
Perfect Chance to Train your Skills!
If you want to build your business effectively, you need to develop a professional image and good communication skills. Our Speech Contest is the perfect chance for you to practice! Our upcoming new round of speech contest will be held on 14 Jul, with the title of "Team Spirit". We welcome all distributors to join. Our seasoned, experienced public speakers Paul and Frankie will be our judges. Their advice will surely benefit us all. Remember, practice makes perfect. You can build your self confidence and public speaking skills simply by practicing. If you want to be a good business leader, do not miss out on this wonderful growing oppurtunity!
Loss 30 lbs weight;
No more Gastrospasm problem!
Problem:Hi, my name is Marco. I work as a merchandiser. I love sport and practice Taekwondo. However, because of my unhealthy eating habits, I became obese. My weight eventually reached 200 lbs! Doing basic things like bending over to tie my shoes, became troublesome! Moreover, my doctor diagnosed me with Gastrospasm. Since I was 5 years old, I suffered from severe stomach aches every day. It greatly affected my daily life. Also, because of practicing Taekwondo, pains and wounds were accumulated in my shoulder and back. Although I am only a young man, I had so many health problems that I lost my energy.

Solution:I tried to find solutions to reverse these problems. To lose weight, I did more exercises and went on a diet, but it wasn't effective. To ease stomach aches, I have to rely on medication. To ease my pains, I tried acupuncture and did Tai Chi, and again it was not effective. In May of year 2013, I got to know about OV and its organic detox concept, so I decided to try my 9-Day Organic Detox. Surprisingly for the first try, I lost 10 lbs weight, and my stomach ache and pains were greatly improved! Up until today, I have successfully undergone 9-Day Organic Detox 3 times. I feel so much lighter. In the past I wore XL, but now I wear an M! What makes me happiest is that my Gastrospasm problem which has caused me a lot of trouble for years is now gone. I do not need medication to ease stomach aches anymore. I have regained the joy of good health I feel energetic and confident. Thank you Organic Vision for changing my life!