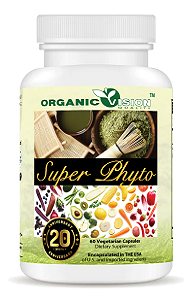 Organic Vision
Super Phyto
60 Vegetarian Capsules
IN STOCK
Recommended Customer Price:
$448.00 (HKD)
INGREDIENTS
Organic Asparagus Root, Organic Carrot Juice, Organic Rosehips, Organic Green Tea, Organic Broccoli, Organic Horsetail, Organic Marigold, Organic Alfalfa Sprouts, Organic Korea Red Ginseng, Organic Maitake, Organic Beet Root, Organic Broccoli Sprout Juice, Organic Cabbage, Organic Ginger Root, Organic Green Bell Pepper, Organic Pomegranate, Organic Red Bell Pepper, Organic Tomato Fruit, Organic American Ginseng, Organic Guarana Seed
Would you like to:
Balance emotions and reduce feelings of stress & anxiety?
Maximize your immune system in order to combat any contagious viruses?
Strengthen your lungs & mucous membranes?
Regulate hormones and clear up your acne?
We live in a time in the world where the strength of our immune systems and lungs are crucial to survival. Never has there been a time where we needed to be so vigilant about contagious diseases and viruses.
Organic Vision has responded to these uncertain times by creating a one of a kind product to help you and your family build strong respiratory systems and immune systems. We introduce to you Super Phyto: a super weapon during this pandemic.
Made from a collection of "superfoods", plants with colors of the rainbow, it nourishes our immune system and provides it with the highest quality of phyto-nutrients from plants. It is essentially a super daily multi-vitamin, but so much more! We essentially absorb the strength of the "immune systems" of such plants, which in turn gives ammunition to our immune systems, as well as the mucus membranes of our respiratory systems to fight unwanted invaders, while healing and strengthening all of our bodily systems.
Super Phyto is also a wonderful tool in helping both men and women balance out their hormones, helping to correct any imbalances and the problems that may result. One side effect from imbalanced hormones may be excess anxiety and mood swings, as well as acne. Super Phyto has been formulated to correct such issues, helping you enjoy calmer, stable moods and a happier outlook on life.
Directions for use
Respiratory Maintenance:
Take 2 capsules per day.
Strengthen:
Take 4 capsules per day.
Fight:
Take 4 capsules per hour with Triple Defense.
Hormone Balance:
Take 2-4 capsules per day. Add more for menstrual or prostate problems.
Super Phyto Benefits
Regulate menstrual cycle & increase your fertility
Restore balance to your hormones & enjoy a calmer disposition
Nourish our respiratory system to prevent virus invasion
Reduce your risk of cancer & chronic illnesses
Reduce inflammation and prevent aging
How?
Balance hormones for both men & women: The Asparagus Root (Shatavari) is a special ayurvedic herb (Indian medicine) which is very helpful for men & women of all ages. It is beneficial for each stage of a woman's reproductive cycle. For teens & young woman, it increases blood flow, easing menstrual pain and preventing the development of hormonal issues, such as endometriosis, PCOS & heavy bleeding. It eases symptoms of PMS, helps us enjoy more stable moods, and helps clear up acne. It further provides relief from hot flashes, night sweats & changes in hormones during menopause. It is also a great herb for increasing fertility for both men & women. It is a wonderful tool for men to increase their sperm count, and to protect them from developing prostate cancer.
Anti-Anxiety & Stress: Studies performed by the Centre for Disease Control & Prevention in the United States have discovered that those with an underlying condition of anxiety and fear related disorders are more prone to the negative effects of COVID-19. Though anxiety & depression can be caused by various triggers and underlying factors, one of such factors may be due to a hormonal imbalance in the body. The Asparagus Root/Shatavari is specifically used in ayurveda (Indian medicine) to treat anxiety & depression. Studies have shown that Shatavari regulates serotonin levels in the brain, leaving you feeling more serene, calm and ready to take on whatever comes your way. Shatavari root extract also interacts with GABA, an essential amino acid that works with your GABA receptors to regulate your nervous system. Lower levels of GABA have been shown to cause anxiety, depression, and insomnia. By regulating GABA, Shatavari helps to calm the nervous system, leading you to feel less anxious.
Kompaniyets L, Pennington AF, Goodman AB, Rosenblum HG, Belay B, Ko JY, et al. Underlying Medical Conditions and Severe Illness Among 540,667 Adults Hospitalized With COVID-19, March 2020–March 2021. Prev Chronic Dis 2021;18:210123.
Garabadu, D., Krishnamurthy, S. Asparagus racemosus Attenuates Anxiety-Like Behavior in Experimental Animal Models. Cell Mol Neurobiol 34, 511–521 (2014).
Strengthens Lungs & Immune Response: Carrots are rich in phyto-nutrient beta-carotene, which is then converted into vitamin A. Vitamin A plays a vital role in maintaining your body's mucous barriers in your eyes, lungs, gut and genitals which help trap virus and bacteria as well as other infectious agents. This means viruses and other pathogens are captured and cleared before they can do damage to our respiratory system and lungs.
The Maitake mushroom enhances the immune system and production of healthy T cells that search for viruses and pathogens to engulf and kill, then they create long term memory T-cells that protect us for many years against similar viruses. T cells are also highly adaptive and flexible, meaning that they can detect a similar virus to one which they have also destroyed years in the past. This means to you that your T cells can fight against all variants of the COVID-19 virus.
Green Tea contains catechins, which have been scientifically proven to prevent the attachment of the spiked protein of the corona virus to the the protein "shell" our cells. Using the spike-like protein on its surface, the SARS-CoV-2 virus binds to ACE2 (the outer surface of many o our body cells)– like a key being inserted into a lock – prior to entry and infection of cells. Hence, ACE2 acts as a cellular doorway – a receptor – for the virus that causes COVID-19. The catechins in green tea, help to block & prevent this process from occurring.
Jena, A.B., Kanungo, N., Nayak, V. et al. Catechin and curcumin interact with S protein of SARS-CoV2 and ACE2 of human cell membrane: insights from computational studies. Sci Rep 11, 2043 (2021)
UNIQUE POINTS
HORMONES: Balance your hormones and relieving symptoms of hormonal imbalance, such as PMS, acne, anxiety and mood swings.
IMMUNE: Greatly enhances and strengthens your immune system, especially your lungs, protecting you against all forms of contagious viruses
REJUVENATE: Slows down the aging process of your cells, helping you to look youthful and radiant