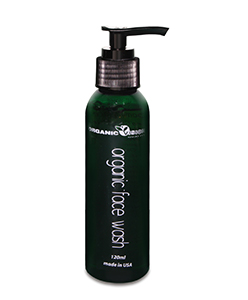 Organic Vision
Organic Face Wash
120 ml
IN STOCK
Recommended Customer Price:
$155.00 (HKD)
INGREDIENTS
Organic Aloe Vera Gel (Active Aloe 200:1), Organic Essential oil of Vanilla, Certified organic botanical blend of Salix Alba (White Willow), Organic Calendula Officinalis (Marigold), Organic Lavandula Officinalis (Lavender), Organic Urtica dioica (Nettle), Organic Achillea millefolium (Yarrow), Organic Equisetum arvense (Horsetail), Organic Theobroma cacao, Organic Rosmarinus officinalis (Rosemary), Organic Anthemus nobilis( Chamomile), Olefin Sulfonate (coconut derived), Cocamidopropyl Betaine (coconut derived), Citric Acid, Grapefruit Seed Extract
How:
Our ultra-hydrating gentle organic face wash removes helps to remove dirt and make-up, while keeping our skin clean and fresh. It is infused with the tantalizing aroma of Organic Cacao chocolate, making your daily cleansing ritual a delicious, enjoyable one. Instilled with extracts of Organic White Willow and Aloe Vera, natural sources of salicylic acid, a great tool in helping you have beautiful skin.
We do not use any of the common additives in today's personal care market, such as:-
Chemical Preservatives (e,g, Parabens)
Harsh Detergents (e.g. SLS)
Synthetic Emollients and Humectants and Emulsifiers (e.g. Propylene Glycol, PPG-, PG-, PEG-, TEA, DEA.)
Petrochemicals (e.g. Mineral oil, Petrolatum, Silicones - Dimethicone)
Synthetic coloring
Synthetic Fragrances.
Usage: Use morning and evening. Apply generous amount and massage over face. Rinse off. Gently pat dry. Follow with toner.
Organic Face Wash benefits
Clean away oil, dirt and makeup effectively
Helps your skin remain beautiful