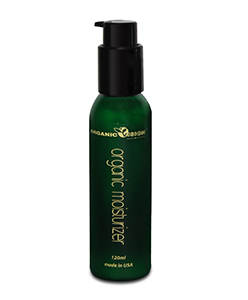 Organic Vision
Organic Moisturizer
120 ml
IN STOCK
Recommended Customer Price:
$200.00 (HKD)
INGREDIENTS
100% Certified Organic Aloe Vera Gel, Organic Green Tea Extract, Organic Vanilla Extract, Organic Anthemus nobilis (Chamomile), Organic Rosmarinus officinalis (Rosemary), Organic Cucumis sativa (Cucumber), Organic White Willow, Organic Marigold, Organic Lavender, Cetyl Alcohol (coconut derived), Stearic Acid (palm derived), Disodium Oleamido Succinate(sunflower oil derived), Hydroxyethylcellulose (Plant derived), Pentaerythrityl Tetrastearate (palm derived), Grapefruit seed extract, Phenoxyethanol (Derived from sage essential oil)
Would you like to:
A wonderfully sweet Organic Vanilla scented face lotion, our organic moisturizer helps to hydrate your skin cells with the help of the moisturizing properties of Organic Aloe Vera helping your skin stay soft, smooth and supple. Organic Green Tea Extract, a key ingredient in our moisturizer, contains high anti-oxidant properties to help protect the skin, helping you to have youthful looking skin.
We do not use any of the common additives in today's personal care market, such as:-
Chemical Preservatives (e,g, Parabens)
Harsh Detergents (e.g. SLS)
Synthetic Emollients and Humectants and Emulsifiers (e.g. Propylene Glycol, PPG-, PG-, PEG-, TEA, DEA.)
Petrochemicals (e.g. Mineral oil, Petrolatum, Silicones - Dimethicone)
Synthetic coloring
Synthetic Fragrances.
Usage: Use morning and evening on its own, or after applying our Organic Youthful Whitening Serum for more intense hydration. Gently massage over face and throat.
Organic Moisturizer benefits
Nourish and hydrate every single cell!
Acquire soft, velvety smooth facial skin!
Maintain or regain youthful, supple skin!