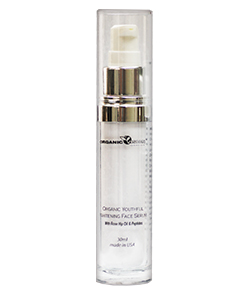 Organic Vision
Organic Youthful Face Serum
30 ml
IN STOCK
Recommended Customer Price:
$858.00 (HKD)
INGREDIENTS
Aqua, Tripeptide-1, Acetyl Hexapeptide-8, Dimethylmethoxy Chromanyl Palmitate, Vegetable Glycerin, Pentapeptide-18, Caprylyl Glycol (coconut derived), Acetyl Octapeptide-3, Dipeptide Diaminobutyroyl Benzylamide Diacetate, Palmitoyl Tripeptide-5, Pentapeptide-3, Organic White Willow Extract, Organic Chamomile, Organic Lavender, Organic Vanilla, Organic Marigold, Organic Rosemary, Hydroxyethylcellulose (Plant derived), Palmitoyl oligo pentapeptide, Organic Active aloe, Arbutin, Phenoxyethanol (derived from essential oil of sage), Aqua-dextran nonapeptide-1, Pentaerthrityl tetrastearate (palm derived), Organic Rose hip oil, Glucosamine sulfate, MSM, Sodium Hyaluronate (Fermentation Derived), Squalane (olive derived)
Organic Youthful Face Serum
This potent and active serum channels the miraculous properties of peptides, one of the skincare industry's best technological/scientific discoveries. Peptides help the skin to heal and rejuvenat. Your skin becomes firmer and more elastic, with reduced wrinkles and fine lines. Think of it as nature's free face lift or even a Botox injection! Accented with 100% certified organic extracts of aloe vera, white willow, chamomile, lavender, vanilla, marigold and rosemary, this wonderfully aromatic serum is gentle enough and suitable for all skin types.
We do not use any of the common additives in today's personal care market, such as:-
Chemical Preservatives (e.g. Parabens)
Harsh Detergents (e.g. SLS)
Synthetic Emollients and Humectants and Emulsifierse (e.g. Propylene Glycol, PPG-, PG-, PEG-, TEA, DEA)
Petrochemicals (e.g. Mineral Oil, Petrolatum, Silicone's - Dimethicone)
Synthetic coloring
Synthetic Fragrances
Directions for use
After cleansing with warm water and prepped with toner to open pores, gently place small dots of serum on your forehead, cheeks and decolletage. Using light, quick strokes without rubbing or pulling skin, massage serum into face and neck. After allowing full absorption, follow up with your usual moisturizer, sunscreen and makeup during the day. Serum may be used by itself at night. No extra night cream is needed.
Organic Youthful Face Serum benefits
Look younger than your age
Possessing radiant and luminous skin
Being young enough to pass as your daughter's best friend
UNIQUE POINTS
NATURAL HEALING:
Let your body heal and rejuvenate itself the way nature intended it to.
ARMOATIC:
The unique herbal blend gives the serum a soothing, floral scent to enhance your overall experience.
FAST ABSORPTION:
The serum is quickly absorbed into the dermis layer of the skin after application.