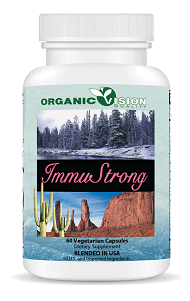 Organic Vision
ImmuStrong
60 Vegetarian Capsules
IN STOCK
Recommended Customer Price:
$448.00 (HKD)
INGREDIENTS
Organic Acerola Cherry, Grapeseed Extract, Organic Echinacea, Organic Rosehip, Pomegranate, Bee Proplis, Grapefruit Seed Extract, Oat Beta Glucan, Organic Nettle Leaf, Organic Olive Leaf, Organic Thyme Leaf, Organic Cayenne Pepper, Organic Horsetail, Organic Carrot Juice, Kale Juice, Organic Alfalfa Sprouts, Organic Fenugreek Sprouts, Spinach, Organic Chlorella, Broccoli, Organic Tomato, Organic Ginger, Organic Beet, Organic Alfalfa Grass Juice, Organic Barley Grass Juice, Organic Wheatgrass Juice, Organic Watermelon, Organic Aloe Vera, Organic Apple, Organic Blueberry, Organic Lemon, Organic Grape, Organic Cranberry, Organic Orange, Organic Pineapple, Organic Mango, Organic Sea Buckthorn, Blue Green Algae, Spirulina
Would you like to:
Strengthen your immune system
Nourish your immune cells with the highest quality of phyto-nutrients?
Overcome sickness without seeing the doctor?
Stop having to rely on prescription drugs or over the counter medications?
Having a strong immune system is vital to obtaining and maintaining optimal health. A healthy immune system protects us from viruses, bacteria, yeast, fungi, parasites. However, if our immune systems are not well maintained, such toxins and pathogens toxins will make us sick, ranging from the common cold to more severe diseases.
Robert Repetto, Vice President of World Resources Institute in Washington DC, provided evidence in his book. Pesticides and the Immune System, proving that pesticides in our diets increase our risk of developing infectious diseases and certain cancers by suppressing the body's normal immune functions. Another major concern is that resistance to antibiotics is increasing and new germs are being created because viruses and bacteria have quickly evolved resistant strains for almost every major man-made pharmaceutical.
ImmuStrong has been specially formulated to provide nutrients to nourish our immune system. We have carefully selected over 40 organically grown vegetables, fruits and herbs to give you a supplement bursting with immune strengthening goodness.
Directions for use
Basic maintenance of a healthy immune system:
2 capsules per day.
Fighting the cold:
2 capsules every hour.
Fighting the flu or a bacterial/viral infection:
4 capsules per hour.
Note:
We recommend taking ImmuStrong together with Reishi Plus and Bee Young.
ImmuStrong benefits
Strengthen your immune system
Nourish your immune cells with the highest quality of phyto-nutrients
Enhance self-healing, reducing the need to see the doctor
Stop having to rely on prescription drugs or over the counter medications
Reduce inflammation and unhealthy cells in the body
So what makes ImmuStrong so powerful?
Instead of only treating the symptom, it helps your body heal itself from the inside. Your body becomes stronger and more self resilient naturally without the use of man-made drugs.
It promotes your body's own defense systems, sending your body's white blood cells to act as ammunition against harmful substances.
It has powerful anti-oxidants to help fight infection in the body
UNIQUE POINTS
VARIETY FORMULA: 48 specially selected Organic vegetables, fruits and herbs in one capsule.
FOOD FORM: Using whole foods that are juiced for the best absorption by our body.
SUITABILITY: Can be taken by all age groups, including children, the elderly and especially those recovering from illness.
RAW FOOD: Unique low temperature spray dried process retains all nutrients such as vitamins, minerals, trace elements, antioxidants and enzymes for optimum health benefit.