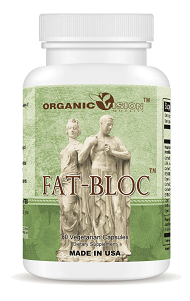 Organic Vision
FAT-BLOC
60 Vegetarian Capsules
IN STOCK
Recommended Customer Price:
$448.00 (HKD)
INGREDIENTS
Super Chitosan (Liposan UltraTM), Fibersol II, Organic Oat Powder, Apple Pectin, Citrus Pectin, Pomegranate, Organic Watermelon, Organic Concord Grapes, Organic Raspberry, Organic Blueberry, Organic Strawberry, Organic Cranberry, Organic Orange, Organic Apple, Organic Papaya, Organic Pineapple, Organic Apricot, Organic Alfalfa Juice
Would you like to:
Make fattening food pass through you?
Take control of your weight and appetite?
Enjoy eating your favorite foods without feeling guilty?
Feel fuller faster and stop overeating?
Is this really possible? You may wonder.
While it will definitely not replace the tried and tested formula of eating a healthy, balanced diet and exercising regularly, Fat-Bloc can help to aid you in endeavoring to maintain a healthy lifestyle.
It acts as a protective shield! It forms a gel like substance in your stomach and adheres magnetically to fat molecules.
It acts as a sponge! A giant grease ball of fat is then formed which is too large to be absorbed into your bloodstream.
It acts as a vacuum! Excess fats and oils are thus removed from and passed through your body.
It acts instantly! It readily solubilizes in the stomach within 3-5 mins. The magic lies in powerful ingredients found right in the natural world!
Directions for use
Before meals:
Take 1-3 capsules a minute before each meal according to the amount of fat in your meal.
Fat Bloc benefits
Make fatty food pass through you
Take control of your weight and appetite
Enjoy eating your favorite foods without feeling guilty
Feel fuller faster and stop overeating
How?
We have included these following powerful, effective ingredients:
Liposan Ultra Chitosan: derived from the exo-skeleton of shellfish it has the remarkable ability to absorb many times its weight in fats and oils!
Fibersol-2 : is a bulk producing, soluble dietary fibre derived from fruit, vegetables and grains.
Organic Oat Powder:prolongs the absorption of carbohydrates in the bloodstream.
UNIQUE POINTS
QUALITY: A unique patented LipoSan UltraTM generally called SUPER-CHITOSAN is used.
EFFECTIVE: The effect appears rapidly because the capsules readily solubilise in the stomach in less than 5 minutes, so you can take it right before your food.
CONVENIENT: Easy to carry around in your bag when you go out.
FLEXIBLE: Take different amounts depending on your meal size.