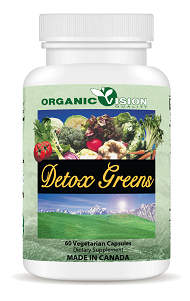 Organic Vision
Detox Greens
60 Vegetarian Capsules
IN STOCK
Recommended Customer Price:
$448.00 (HKD)
INGREDIENTS
Organic Broccoli & Organic Broccoli Florets, Organic Cabbage, Organic Kale, Organic Wheatgrass Juice, Organic Beet Root Juice, Organic Parsley, Organic Cilantro Leaf, Organic Tomato, Organic Ginger Root, Organic Alfalfa, Organic Carrot Juice, Organic Spinach, Organic Barley Grass Juice, Organic Oat Grass, Organic Spirulina, Organic Chlorella, Organic Pomegranate, Organic Tumeric
Would you like to:
Cleanse your digestive tract?
Enhance your body's detoxification system?
Have a convenient way to take in your daily dose of vegetables and fruits?
The World Health Organization study group on diet, nutrition and prevention of communicable diseases (1991) recommended that we consume at least 400 grams of fruits and vegetables. In other words, we should consume at least 5-9 servings of vegetables and fruits daily.
We have thus carefully selected nearly 20 varieties of organically grown vegetables to offer you this supercharged nutrient packed medley to supplement your daily diet. We have carefully juiced, spray dried at a low temperature and extracted these vegetables to give you Detox Greens-packed live with enzymes that have not been destroyed in the production process.
All of these wonderful ingredients are packed into a single vegetarian capsule. With all the wonderful health properties in just a small capsule, it can even substitute your daily intake of vegetables if taken in large quantities.
Directions for use
Maintenance of optimal health:
Take 2 capsules a day.
Picky eaters (12 years and under):
Take 2 capsules morning and evening
Elderly:
Take 1-2 capsules every meal.
Those on a detox:
Take 4 capsules every morning and evening.
Prevention of cancer:
Take 4 capsules in the morning, afternoon and evening.
Detox Greens Benefits
Have a convenient way to take in your daily dose of vegetables and fruits
Provide vitamins and minerals for your blood
Enhance your body's detoxification system
How?
Builds your blood: We have chosen to place organic spirulina, organic spinach and organic beet root juice to help generate the production of red blood cells and encourage better circulation.
Improves your digestive system: Organic barley grass juice helps enhance your intestines, stomach and colon.
Strengthens your body's major detox organs: Organic wheatgrass juice and organic beet root juice help your liver to detoxify the body of heavy metals and pesticides.
Maintain healthy cells: We have included vegetables such as organic broccoli, organic parsley, organic cabbage and organic kale.They all help fight against free radicals and oxidation before they have a chance to damage the DNA of cells.
UNIQUE POINTS
POTENT: Specially selected health enhancing vegetables with some of the highest phyto-nutrients in nature.
ORGANIC: All the vegetables in Detox Greens are organically grown without any chemicals, pesticides or genetic modification.
JUICE POWDER: All these vegetables have been juiced to extract all the benefits in an easily assimilated and absorbed form.
RAW FOOD: The unique low temperature spray dried process is used to retain as much nutrients and enzymes as possible for optimum benefit.
CONVENIENT: Get your daily dose of vegetables in a easy and compact way.