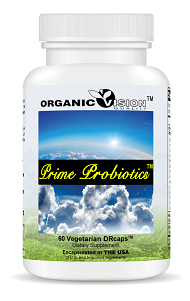 Organic Vision
Prime Probiotics
60 Vegetarian Capsules
IN STOCK
Recommended Customer Price:
$523.00 (HKD)
INGREDIENTS
Bifidobacterium infantis, Lactobacillus acidophilus, Bifidobacterium breve, Bifidobacterium bifidum, Bifidobacterium longum, Lactobacillus brevis, Lactobacillus bulgaricus, Lactobacilus casei, Lactobacillus plantarum, Lactobacillus rhamnosus, Streptococcus thermosphilus, Lactobacillus helveticus, Lactobacillus lactis, Lactobacillus salivarius










Prime Probiotics
Probiotics, also known as 'for life' in Greek, are microorganisms such as bacteria that actually provide benefits for the human body. These are already present within our own digestive system. A balanced and strong digestive system is key to a healthy lifestyle.
Directions for use
Basic maintenance:
Take 2 capsules with water on an empty stomach every day.
Note:
For best results, take Prime Probiotics at least 2 hours after your last meal and wait 30 minutes before eating any other food.
Prime Probiotics benefits
Enhance absorption of nutrients
Promote healthy microflora
Enhance our immune system
Facilitate brain function
How?
Digestive Function: Probiotics repopulate depleted intestinal flora and bring back bacterial balance within the digestive tract.
Immune Function:Probiotics play a key role in immune function, therefore having Probiotics in our daily diet can help you maintain a healthy lifestyle.
UNIQUE POINTS
VEGETARIAN: Most products on the market contain animal products, but Prime Probiotics is 100% vegetarian.
EFFECTIVE: Each capsule of Prime Probiotics contains 7.5 billion CFU of probiotics for maximum potency.
VARIETY FORMULA: Prime Probiotics contains 14 strains of different bacteria, offering a wide spectrum of health benefits.