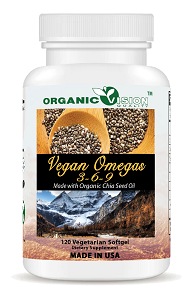 Organic Vision
Vegan Omegas 3-6-9
120 Vegetarian Capsules
IN STOCK
Recommended Customer Price:
$523.00 (HKD)
INGREDIENTS
Organic Chia Seed Oil

Would you like to:
Possess soft, healthy, clear skin?
Lose that stubborn body fat?
Enjoy tip top cardiovascular health?
Wake up every day to better moods?
The key to possessing these benefits lies in our intake of the right ratio of omegas 3, 6 and 9. All of these forms of omegas are essential fatty acids, as they are essential for a high quality of health which our bodies cannot produce on its own. The modern day diet contains high levels of omega-6s but insufficient levels of omega-3s. Omega-6s are pro-inflammatory whilst omega-3s are anti-inflammatory.
It would be ideal if we could get all our omega-3s through our diet by eating high levels of omega-3 rich foods such as salmon, walnuts, flaxseeds and eggs. However, not only is it difficult to ingest a sufficient amount of omega-3 fats on a daily basis, there are also potential health hazards associated with such popular sources of omega-3s.
So how can we satisfy our daily requirement of omega-3s without jeopardizing our where can we obtain a superior source of omega-3s as a vegan or vegetarian?
Organic Vision has the answer! We have created a pure, plant based form of omega-3s, sourced from organically grown Chia Seeds from Mexico to give you Vegan Omegas 3-6-9. Encased in a 100% vegetarian capsule and formulated with Organic Chia Seeds, Vegan Omegas 3-6-9 is a safe, clean and effective way to fulfill your nutritional requirements whilst protecting the environment.
Directions for use
Basic maintenance:
Take 2 capsules per day with a meal.
Vegan Omegas 3-6-9 benefits
Wake up every day to better moods
Lose body fat and slim down
Possess soft, healthy, clear skin
How?
Omega-3 fatty acids have been shown to reduce inflammation in your body. But it's equally important to get the right ratio of omega-3 to omega-6 fatty acids for optimal health. Chia Seed Oil has a healthy balance of oils, with approximately 60 percent omega-3 and 20 percent omega-6.
UNIQUE POINTS
ENVIRONMENTALLY FRIENDLY: Organic and Vegan
EFFECTIVE: Contains the ideal ratio of omega 3, 6 & 9s to balance out our modern day diets and provide optimum skin nourishment