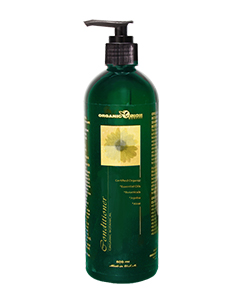 Organic Vision
Organic Botanical Conditioner
480 ml
IN STOCK
Recommended Customer Price:
$250.00 (HKD)
INGREDIENTS
Aqua , Cetearyl Alcohol, Castor Seed Oil, Cetyl Alcohol, Cetrimonium Chloride (derived from coconut), Caprylic/Capric Triglyceride (derived from coconut oil), Organic Jojoba Oil, Organic Aloe Vera Leaf Juice, Sunflower Seed Extract, Essential Oil of Lavender, Vanilla Extract, Organic Chamomile Extract, Organic Nettle Extract, Organic Thyme Extract, Organic Yarrow Extract, Organic Horsetail Extract, Organic Rosemary Extract, Vegetable Glycerin, Phenoxyethanol, Organic Guar Gum, Acai Berry Pulp Oil, Citric Acid
Organic Botanical Conditioner
Organic Botanical Conditioner is a light, moisturizing and wonderfully aromatic conditioner. Scented with natural essence of vanilla, it acts both as a protector and a rejuvenator for the hair.
This is a unique type of conditioner, as it is suitable for all types of hair, whether chemically treated, dry, or oily.
Results can be felt immediately upon rinsing, as hair becomes soft and feels exceptionally nice to the touch.
Organic Botanical Conditioner benefits
Have thicker, luscious, shinier locks
Wow others with your bouncy, volumous mane
Possess easily manageable, silky soft hair
How?
We have included these key natural potent ingredients to infuse your hair with wholesome protective goodness.
Soybean Extract: Helps make your hair shine.
Castor Seed Oil: Helps to ensure that your hair will be healthy even in old age.
Organic Jojoba Oil: Clean away excess hair products.
UNIQUE POINTS
NO Harmful Ingredients:
No Carcinogenic Preservatives:
Diazolidinyl urea, DMDM Hydantoin, Imidazolidinyl urea & Quaternium 15.
No Nitrosamine-forming
Wetting agents: DEA OR TEA(i.e., TEA-lauryl sulfate or cocoamide-DEA).
No Harmful Foaming Agents:
Sodium Laureth Sulfate, Sodium Lauryl Sulfate, PEG and Polysor bate 60 & 80.
No Artificial Colors nor Synthetic Fragrances:
Listed as FD&C or D&C on labels.
All Safe & Natural:
Natural Preservatives:
Products require preservatives or they will become contaminated with bacteria so we use Natural Preservatives instead.
Natural Foaming Agent:
We use the gentlest ingredient C 12-14 Olefin Sulfonate that is derived from coconut.
Formulated with Certified Organic Ingredients:
Aromatherapy essential oils of organically grown flowers and herbs are used.