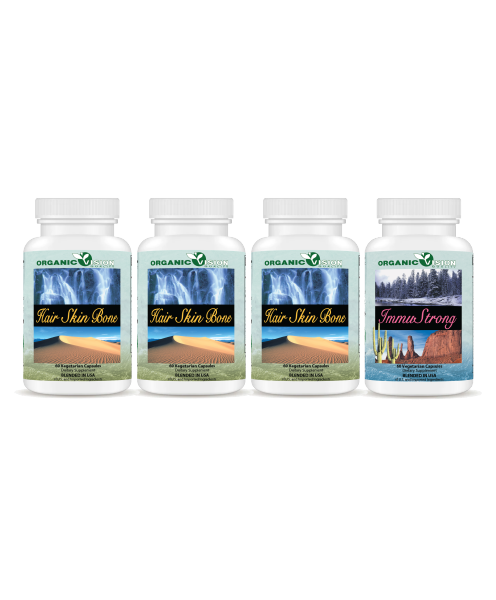 Organic Vision
Bone Health
Includes: 2 products
IN STOCK
Recommended Customer Price:
$1578.00 (HKD)
Discounted Price:
$1528
Bone Health Pack
Would you like to move, walk and run comfortably in your 40s, 50s and even your 60s? Our bone cells are living tissue that is constantly being broken down and renewed. From our mid 30s onwards, bone loss surpasses bone gain. Would you like to have healthier, stronger bones even when you get older?
Our Bone Health Pack includes Hair Skin Bone, containing bamboo and organic horsetail which are high in silica, a trace mineral found in bones, teeth, skin, eyes, glands and organs. It is a major constituent of collagen, which helps maintain skin elasticity, keeps bone cartilage strong, and works synergistically with calcium to maintain bone density. ImmuStrong is included as a potent immune enhancer, heightening the efficiency of our immune systems response to invading bacteria and viruses. It contains over 40 varieties of fruits, vegetables, herbs and seawater plants which have been carefully selected for their immune boosting properties.
Recommended directions for use
For maintenance of bone health, we recommend you take 6 capsules of Hair Skin Bone & 2 capsules of ImmuStrong every morning.
Bone Health benefits
Strengthens your bones and connective tissues
Protects the flexibility of joints
Maintains elasticity of your skin
How?
This package is perfect for those who suffer from fragile bones, sports injuries, or for those who would love to have beautiful and healthy skin, hair and nails. Key ingredients inside these products like organic Kelp encourage healthier bones and a stronger immune system.
UNIQUE POINTS
ALL INCLUSIVE: Instead of offering you single individual minerals, this package aids your own body to produce more collagen and absorbing nutrients to heal itself naturally
SUITABLE FOR ALL AGES: Ingredients are so safe even babies and the elderly can take them
POTENT: Contains ingredients with powerful bone production, formation, repair, healing & maintenance properties