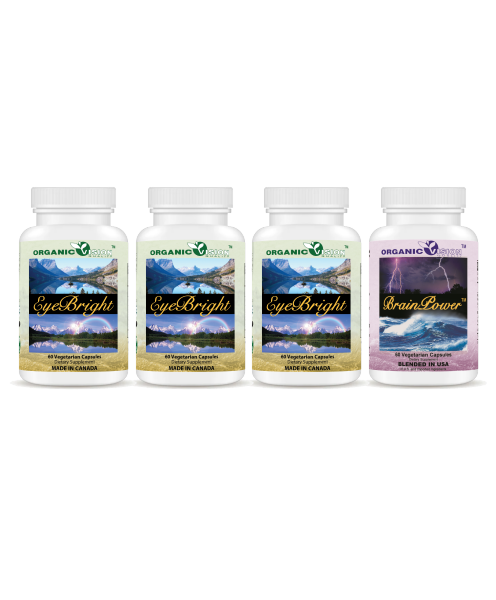 Organic Vision
Eye Health
Includes: 2 products
IN STOCK
Recommended Customer Price:
$1777.00 (HKD)
Discounted Price:
$1723
Would you like to:
Are you frustrated with wearing glasses or contact lens for near or far sightedness?
Would you like to reduce your eye floaters?
Is it possible to delay age related eye deterioration?
As computers, smart phones and tablet monitors become a large part of our daily lives for work or play, the percentage of eye related problems and diseases are increasing at an alarming rate. Using our Eye Health Pack will help you acquire clearer and sharper vision without any invasive surgery. Blurriness and astigmatism will improve, and any floaters you may have had in your eyes will significantly decrease.
We have included Eye Bright, which contains bilberry & gingko; and Brain Power, which contains red ginseng that all encourage better, healthier eyes.
Recommendation:
If you would like to improve your eyesight and reduce symptoms of degeneration, we recommend taking 3 capsules of Eye Bright & 2 capsules of Brain Power every morning.
Eye Health benefits
Experience clear & sharper vision
Reduce eyesight problems such as astigmatism
Enhance your concentration levels at work or school
Decrease your chances of developing degenerative eye disorders
How?
This package is ideal for hard working students who need some extra help in increasing their focus levels to help them achieve their highest studying potential. It is also perfect for those with demanding jobs or who work long hours. Eye health will give you that extra boost of energy to help you work efficiently.
UNIQUE POINTS
EFFICIENT: Results can be felt in a matter of minutes
CONVENIENT: Bring it anytime anywhere you need a pick me up
NATURAL: You can get rid of fatigue and increase your attention spam without the use of manmade drugs!