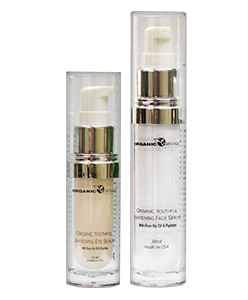 Organic Vision
Organic Youthful Serums Pack
Face serum: 30 ml , Eye serum: 15 ml
LOW IN STOCK
Recommended Customer Price:
$1735.00 (HKD)
Discounted Price:
$1685
Would you like to:
Restore that juicy youthful glow to your cheeks?
Naturally erase 5-10 years off of your face naturally without surgery?
The answer lies in the science behind it all.
Skin is made up of collagen and elastin; they are the foundation that gives your skin its support and thickness.
Collagen is a form of protein made up long chains of amino acids strung together. When it is broken down, short segments of 3-5 amino acids form, called peptides. These "mini proteins" are active molecules to improve wrinkles and make you look younger. When we age collagen is destroyed but not replaced. In fact, we lose about 1.5% of collagen per year! As a result young, smooth becomes thin and wrinkled over time.
Elastin is a protein in connective tissue that is elastic and allows many tissues in the body to resume their shape after stretching or contracting. Elastin helps skin to return to its original position when it is poked or pinched. Our body's ability to produce elastin starts to decrease after the age of 25-30. By the time we hit our 40's, we stop producing it altogether.
The "Organic Youthful Whitening Facial and Eye Serum" contains 9 different types of peptides. These peptides are absorbed into the dermis layer of the skin helping to attain youthful and healthy skin.
Scented with natural splashes of organic white willow extract, organic chamomile, organic lavender, organic vanilla, organic marigold and organic rosemary, this wonderfully aromatic and refreshing face and eye serum with help you start and end your day smelling sweet and fresh.
Kiss goodbye to crow's feet, laughter lines and expression lines on your forehead! Watch your skin transform in front of your very own eyes. See the years melt away and the compliments start to come your way. See your skin brighten and glow with radiance. Everyone will be asking-why do you look so good? Why do you look younger every time I see you?
Everybody will want to know your secret!
Directions for Use
Apply 1 drop of Organic Youthful Whitening Eye Serum around the eye area and massage gently in a circular motion
Apply 1-2 drops of Organic Youthful Whitening Face Serum on face and neck and gently tap it into the skin for better absorption
Synthetic Emollients and Humectants and Emulsifiers (e.g. Propylene Glycol, PPG-, PG-, PEG-, TEA, DEA.)
Organic Youthful Serum Pack benefits
Reduces fine lines and wrinkles
Induce collagen production for softer, smoother skin
Maintain youthful elasticity to skin
Get a crystal, glowing complexion
How?
Channeling dermatology's latest discovery of youth enhancing peptides-short chain amino acids which may aid in the formation of collagen and elastin-2 key components to maintaining youthful elasticity to the skin! These peptides also may help to lock in moisture in the skin to ensure your skin stays fresh, hydrated and plump.
UNIQUE POINTS
AGE REVERSAL: Erase years off your face!
AROMATIC: Scented with essential oils of lavender, chamomile and rosemary